2019年10月29日 火曜日
MADD. workshop "A Lecture in How to Use the 8K Camcorder (8C-B60A)"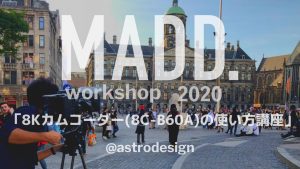 MADD. will hold a workshop on how to use the 8K Camcorder (8C-B60A) at ASTRODESIGN, Inc.
It is a workshop related to MADD.Award 2020.
We are awaiting your participation.
■ Date
2019/10/31 (Thu) 13:30~17:30
(Doors open at 13:00)
■ Place
ASTRODESIGN, Inc.
■ Application
Participation in the workshop is free of charge.
If you wish to participate, please apply via e-mail (info@madd.jp) including your name and the organization to which you belong.
Due to limited equipment, we will close applications after 20 people have applied.
■ Agenda
・Explanation of 8K camcorder and 8K video
・ How to use the 8K camcorder
・ Introduction of video content recorded with 8K camcorders
・ 8K Camcorder shooting experience/recorded video check
・ Viewing of 8K video contents (Content submitted to MADD., 8K3D)
・ Thoughts and opinions on the 8K Camcorder, etc.