2019年10月11日 金曜日
MADD. workshop "Massive Video Production Lecture"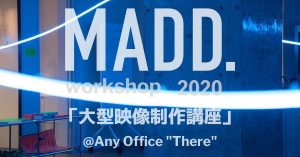 MADD. will hold a "Massive Video Production Lecture" on 2019/11/2 (Sat) at Any Office "There" for those who wish to apply for MADD. Award 2020 and those who are interested in MADD. activities.
Participation is open to everyone.(Participation Fee: Free /After Party: Fees applicable)
We are awaiting your participation.
■ Date
2019/11/2 (Sat) 13:00~17:00
(18:00 ~ After Party)
■ Place
Any Office "There"
Qiz Hiroo 2F, 5-1-11 Minami-Azabu, Minato-ku, Tokyo
■ Agenda
① Introduction to MADD.
② Massive Video and 8K
[Lecturer]
Mr. Kazuyuki Baba(Professor at Mejiro University, Faculty of Media Department)
③ Massive Video~ Past and Future ~
[Lecturer]
Mr. Mitsuhiko Kawamura(Representative Director of tokyowebtv)
④ 1980~1990 Ultra-Massive Video Production in the Age of Film ~Video Production Methods~
[Lecturer]
Mr. Yasuharu Araki(Representative of Banri Video Producer 16 Millimeter Film Trial Room)
⑤ The Present State of Ultra-Massive Images and Approach to the Production of Live-Action Dome Video
[Lecturer]
Mr. Satoru Itoya(Representative Director of Scale Factory)
⑥ A Talk Session on Massive Video and How to Tie it to Business
[Screening]
・ Fuji Video Poetry (produced by Mr. Kawamura)
・ "Massive" Video Highlights (produced by Mr. Araki)
[Panelists]
Mr. Baba, Mr. Kawamura, Mr. Araki, and Mr. Itoya
Mr. Akira Wakita (Director, Faculty of Environmental Information, Keio University)
Mr. Jin Sato (ASTRODESIGN, Inc.)
⑦ The Potential of 70mm 8K Scans
[Lecturer]
Mr. Baba
■ Application
① Apply via Facebook
https://www.facebook.com/events/3131926280215475/
② Apply via mail (info@madd.jp)
Please fill in your name and the name of the organization to which you belong+B8